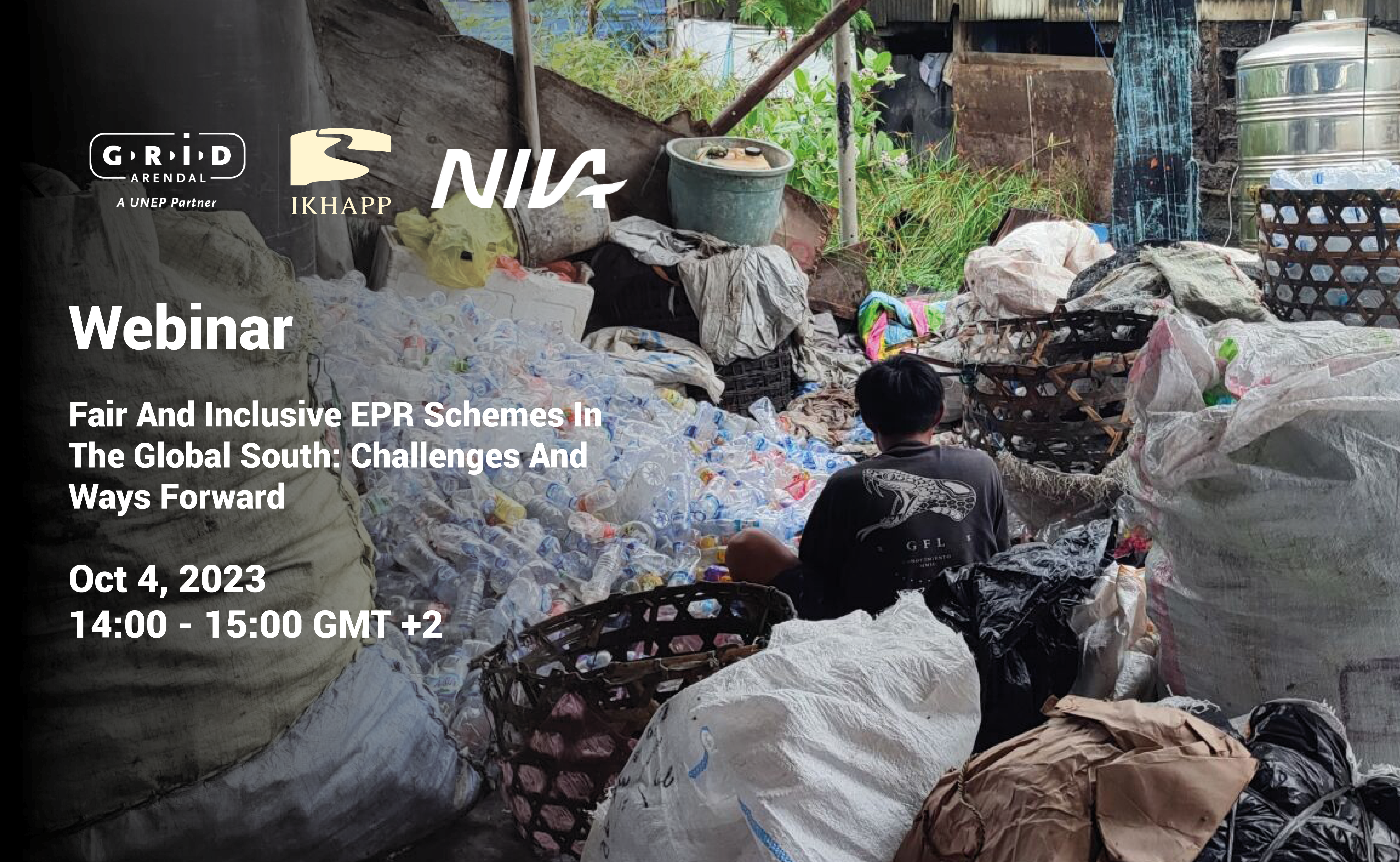 Date: Wednesday, 4 October 2023
Time: 14.00 – 15.00 GMT+2
Venue: Zoom Meeting
Save the date and register for the webinar here!
The text below is excerpted from the registration page of the webinar. 
GRID-Arendal and NIVA through the International Knowledge Hub Against Plastic Pollution (IKHAPP) are organizing a webinar entitled "Fair and Inclusive EPR Schemes in the Global South: Challenges and Ways Forward".
Extended Producer Responsibility (EPR) in countries of the Global South is emerging as an opportunity to reduce plastic pollution due to their fundamental ability to enhance resource recovery. Meanwhile, the informal recycling sector (IRS) sustains a continual fight for access and ownership of some of the most lucrative waste resources (Velis, 2017). With regard to the distribution of material ownership and profit, the relationship between the IRS and the EPR schemes can become challenging. It may even threaten IRS livelihoods if EPR schemes are not designed and implemented with consideration of the existing IRS structures and through participatory engagement with relevant IRS stakeholders (Talbott et al., 2022).
This digital event features perspectives from international experts, representatives from civil society, and the IRS and will showcase practical examples of EPR schemes in Asia and Africa that are inclusive to the IRS. The webinar will contribute to an improved understanding of the potential challenges, enabling factors, and benefits of designing inclusive and just EPR systems. Furthermore, it is expecting to contextualize invited speakers' considerations and debate within the ongoing negotiations towards a plastic treaty, in which EPR is being considered as a means and mechanism of implementation.
Stay tuned for updates on the final agenda and speakers for this event.
References:
Cass Talbott, T., Chandran, P., Allen, C., Narayan, L., & Boampong, O. (2022). Extended Producer Responsibility (EPR) and Waste Pickers. WIEGO Technical Brief No. 15. Manchester, UK: WIEGO.
Velis, C. A. (2017). Waste pickers in Global South: Informal recycling sector in a circular economy era. Waste Management & Research, 35(4), 329–331. https://doi.org/10.1177/0734242×17702024