Plasticulture: an international perspective on environmental sustainability
Time: 10:00 – 13:00 (EET) / 09:00 – 12:00 (CET)
Date: 13th October 2022
Venue: Museum of Agriculture, Athens (Hybrid)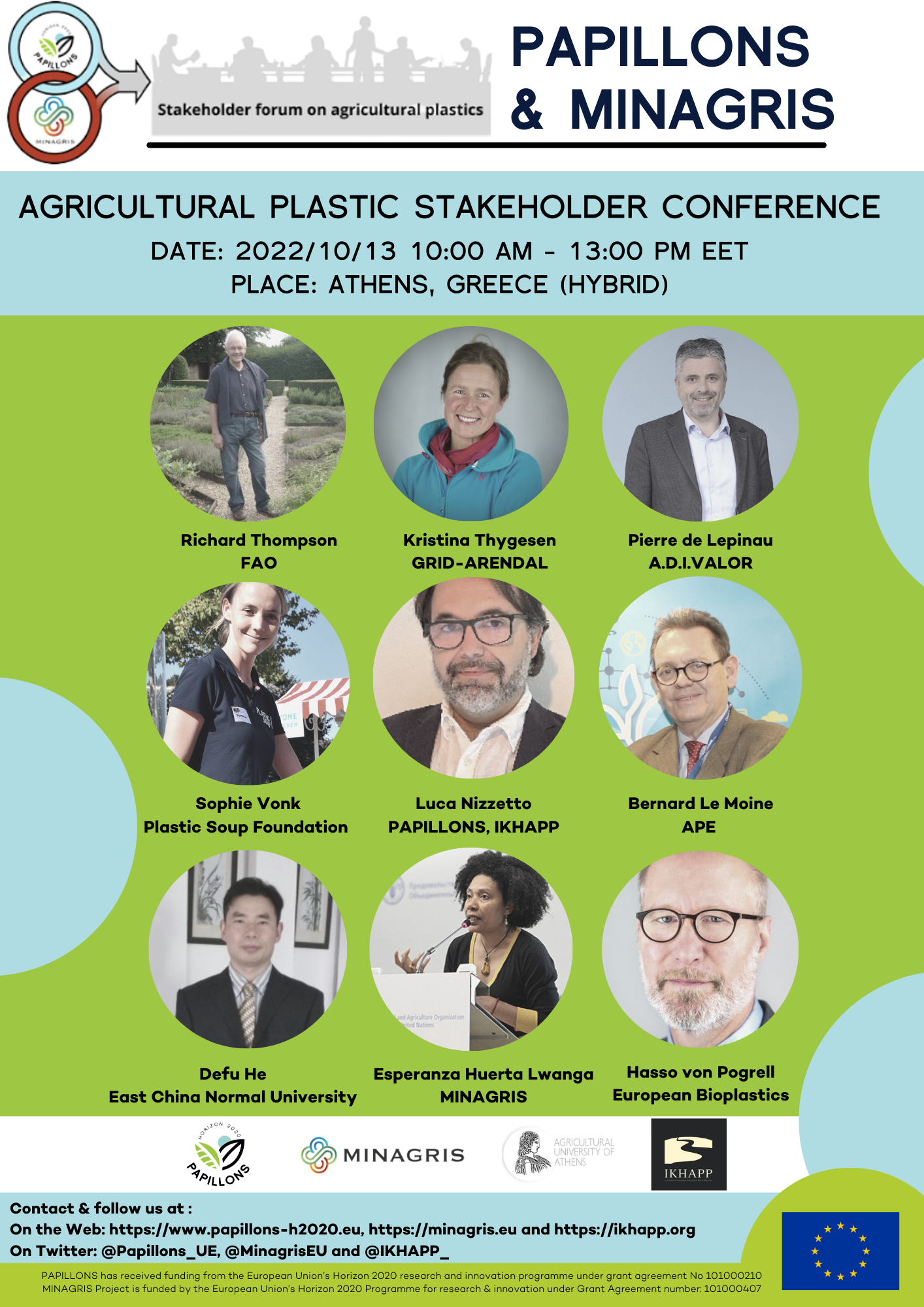 *Registration link is listed below.
Agricultural plastics are coming to the forefront of the global agenda as research on "plasticulture" reveals both their benefits and pollution trade-offs. Plasticulture has gained particular significance in the context of UNEA's global plastic treaty negotiations and FAO Committee on Agriculture talks on agricultural plastic guidance. Plastic products are entrenched throughout food systems, and their usage is continuously increasing, including in countries where capacity of properly managing plastic waste is limited. Shortfalls in agricultural plastics' usage and waste management result in soil pollution. Scientific investigation into the occurrence and effects of plastics on soil is in early stages, and some evidence shows the likelihood of adverse effects.
In 2021 the European Commission financed the PAPILLONS and MINAGRIS projects, two large consortia including about 40 research institutes from Europe and China, to conduct research on agricultural plastics. This includes sources, occurrence, behavior, and impacts of microplastic and nanoplastic pollution in soil from agricultural plastics' usage.
The 2nd PAPILLONS/MINAGRIS Stakeholder Forum will be held 10:00 – 13:00 (EET) / 09:00-12:00 (CET) on 13th October 2022 in Athens, Greece at the Museum of Agriculture in a hybrid form for both in-person and virtual attendees. The meeting is cohosted by the Agricultural University of Athens and IKHAPP (the International Knowledge Hub Against Plastic Pollution).
This semester meeting topic is: Plasticulture: an international perspective on environmental sustainability. We will provide our international stakeholders an opportunity to gain insights and participate in the debate on international policy developments on the use of plastic in agriculture. Scientists will present the latest updates from research activities on the use, diffusion, management, and ecological impacts of agricultural plastics emerging from PAPILLONS and MINAGRIS projects, and from other research activities
The meeting will include multiple interventions from high-level FAO and EU officials as well as stakeholders across the EU.
Please see agenda of the event here.
Please register for the event at: https://forms.office.com/r/vU2Nv1Tvvv